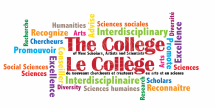 The RSC has named the incoming 48 members of The College of New Scholars, Artists and Scientists. Those named to the College represent the emerging generation of scholarly, scientific and artistic leadership in Canada.
Together, the members of the College will address issues of particular concern to new scholars, artists and scientists, for the advancement of understanding and the benefit of society, taking advantage of the interdisciplinary approaches fostered by the establishment of the College.
"The College is Canada's first national system of multidisciplinary recognition for the emerging generation of leaders," said RSC President Graham Bell. "Together, the members of the College will be in a position to provide guidance on issues of importance to Canadians, and to promote Canadian achievements in the arts, humanities and sciences around the world."
The Presentation of this cohort will take place on Friday, November 27, 2015 at Fairmont Empress in Victoria, BC.